Welcome, Powur Ambassador!
Thank you for becoming a Powur Ambassador! If you're considering joining the program, you'll learn the benefits of becoming an Ambassador and how to sign up in the article below.
Whether you are a solar customer, a master networker, or just want to send a few solar leads our way, you're in the right place!
What is Powur's Ambassador Program?
Powur's Ambassador Program allows anybody to submit leads for solar sales professionals on the Powur platform and earn $1,000 for each lead that goes solar with Powur.
Becoming a Powur Ambassador is free, so if you have friends, family, colleagues, neighbors, or other contacts that you know who are homeowners and may qualify for solar, you can submit them and earn $1,000 when they go solar with Powur.
How do I share this program with others?
You can share either of the links below to this article for anyone who is interested:
https://help.powur.com/hc/en-us/articles/9505687516571
or
Are you an Independent Sales Consultant with Powur?
If you're a seller with Powur you can access additional resources about Powur Ambassador Program for sellers here: The Ambassador Program for Sellers
How to Sign Up as an Ambassador for Free
Signing up is free and simple. Watch the videos below to learn how you can sign up.
Step 1: Go to https://powur.com/ambassador
Step 2: Click the "Free Sign Up" button

Step 3: Complete the Form. Fill in your First Name, Last Name, Email, Phone, Language Preference, and choose your Languages Spoken. Then click the Join Button.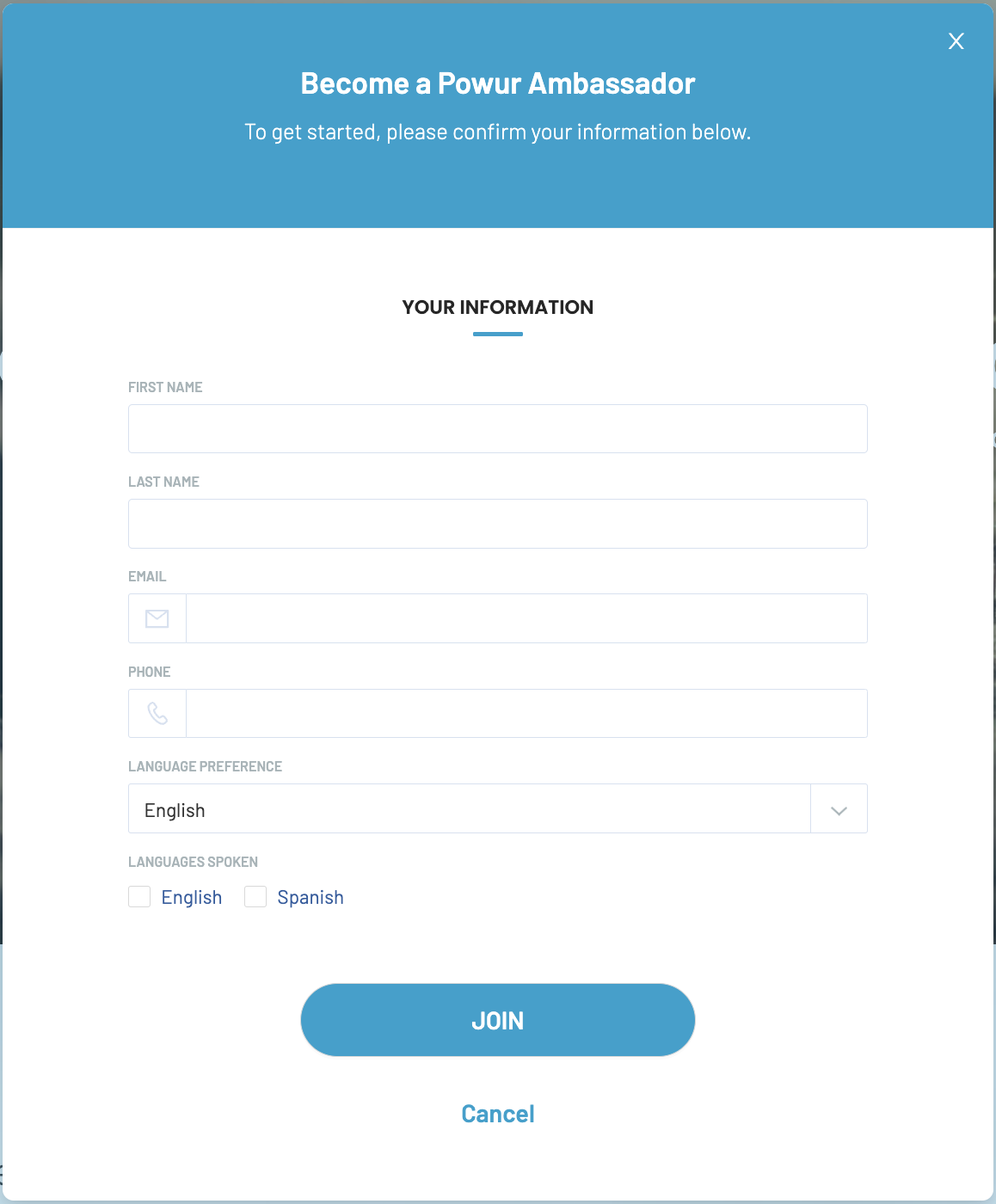 After submitting the form successfully, you'll see a pop-up menu confirming your request to join and directing you to your email inbox to complete your registration.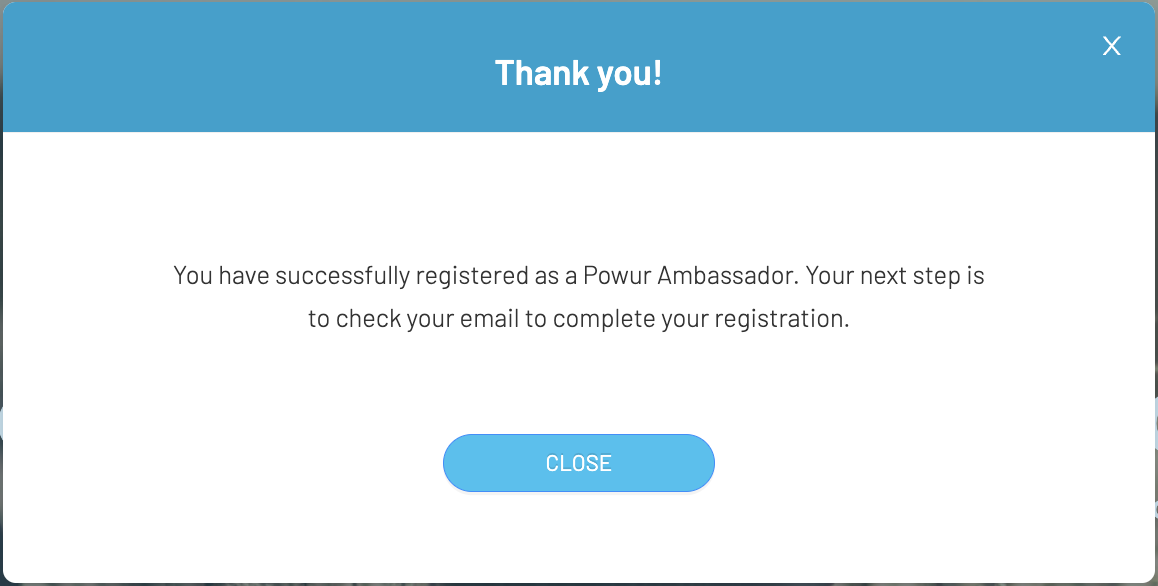 Step 4: Verify your Email. Check your inbox for the email address you used to sign up (check your spam folder if you don't receive the email) for a verification email. Click on the Verify Your Email button to finalize your registration.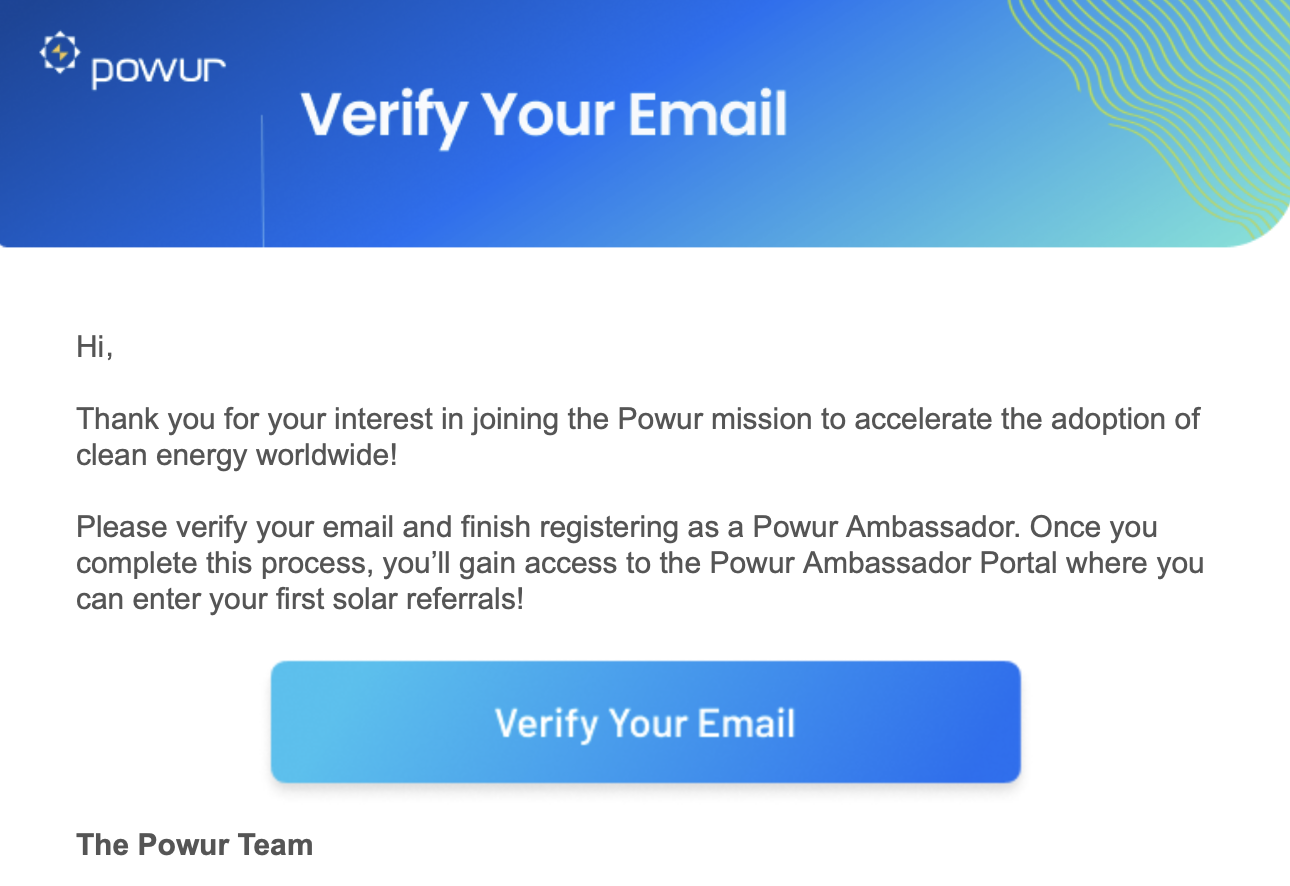 Step 5: Create your Account. To create your account, enter a Password and Confirm Password, check the box to agree to Powur's Terms and Conditions and then click the Create Account.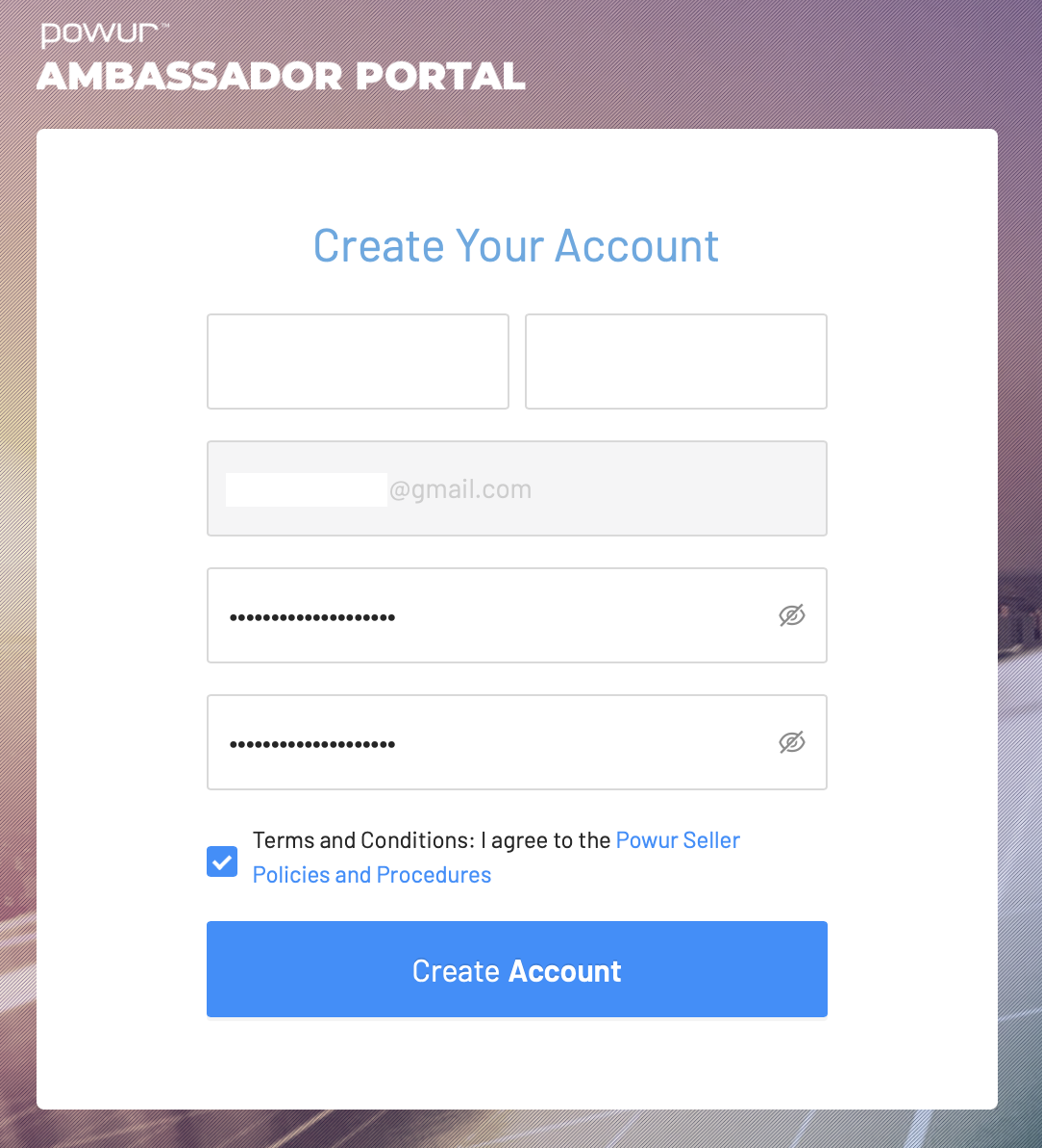 Step 6: Start Submitting Referrals. Welcome to the Powur Family! Once you have created your account, you'll be directed to the your Ambassador Portal.
How to Sign Up Video Tutorial
Welcome to the Ambassador Program Video Tutorial
How to Use the Ambassador Portal
The Ambassador Portal is your home base where you'll find everything you need to support clean energy and earn some referral bonuses along the way.
You can access your Ambassador Portal here: https://powur.com/ambassador/dashboard/home
In the Ambassador Portal, you can:
Access Your Referral Dashboard
The homepage of the Ambassador Portal is your dashboard, where you can see your current payout and potential payouts from the referrals you've already submitted, add referrals, edit your profile, and access other useful information and links.
Add Referrals to Your Dashboard
Add referrals by clicking the (+) Plus Button
Share your Referral Link
Your Referral Link can be shared on social platforms, or you can copy the link to share it via other preferred methods like text or email. Your referral link will bring potential referrals to the powur.com webpage with your contact information in the top right corner
When a homeowner clicks the Get Quote button on your Referral Link Page and enters the information requested for a solar quote, this creates a lead in the Powur.com platform and automatically tags you as the Ambassador on the project.
Share the Education Link
The Education Link is a link that you can share on social platforms or copy into texts or emails with potential referrals.
The Education Link is to a page that a lot of great information about Why Now is the Best Time to Go Solar including videos from Powur's CEO and lots of great information about the benefits of solar.
Access the Ambassador Script
The Initial Interest Script is a helpful guide to give you some ideas on how to start the conversation about solar with potential referrals.
The Powur Solar Ambassador Script provides some script ideas for each step of the solar process, from sparking interest in solar to discussing your experience with solar and Powur, and getting the information needed to qualify your referral for solar.
Learn to Answer Homeowner FAQs
The Homeowner FAQ for Ambassadors has common questions that come up with discussing solar with homeowners who are learning about solar and considering a discussion with a Powur seller.
Remember, the best person to answer your referral's questions about going solar is the consultant, which is why it's best to encourage them to meet with a consultant if they want to find out more.
The purpose of the Homeowner FAQ for Ambassadors is to help answer some of those initial questions or hesitations to help them understand the value of meeting with a consultant.
Update Your Ambassador Profile
Click on the Ambassador icon to update your profile, including your name, contact information, profile image, and change your password.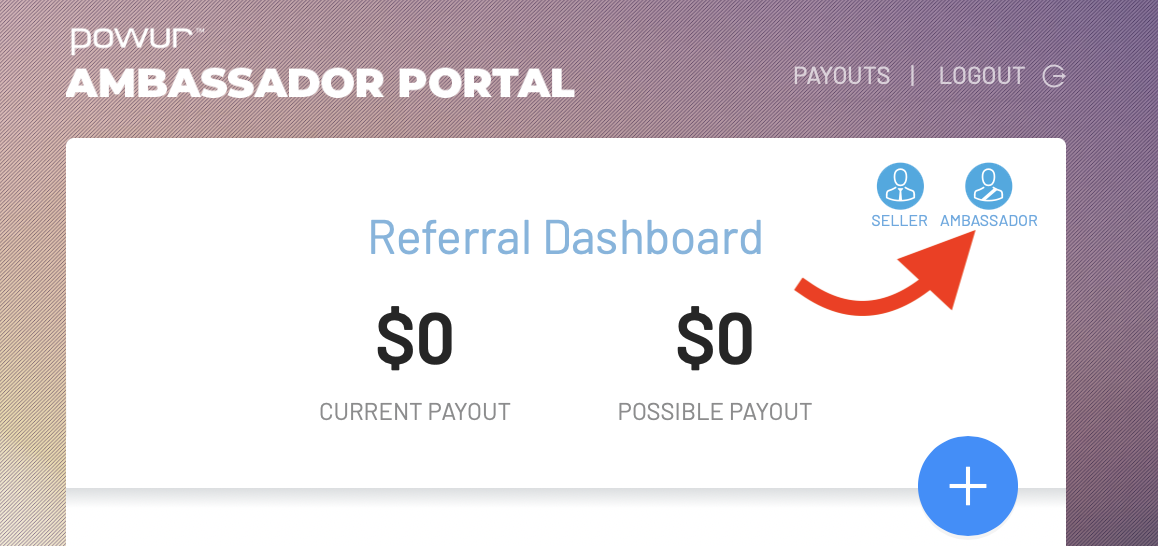 Upgrade Your Account
Click on the Seller icon to upgrade your account to become a Powur Seller.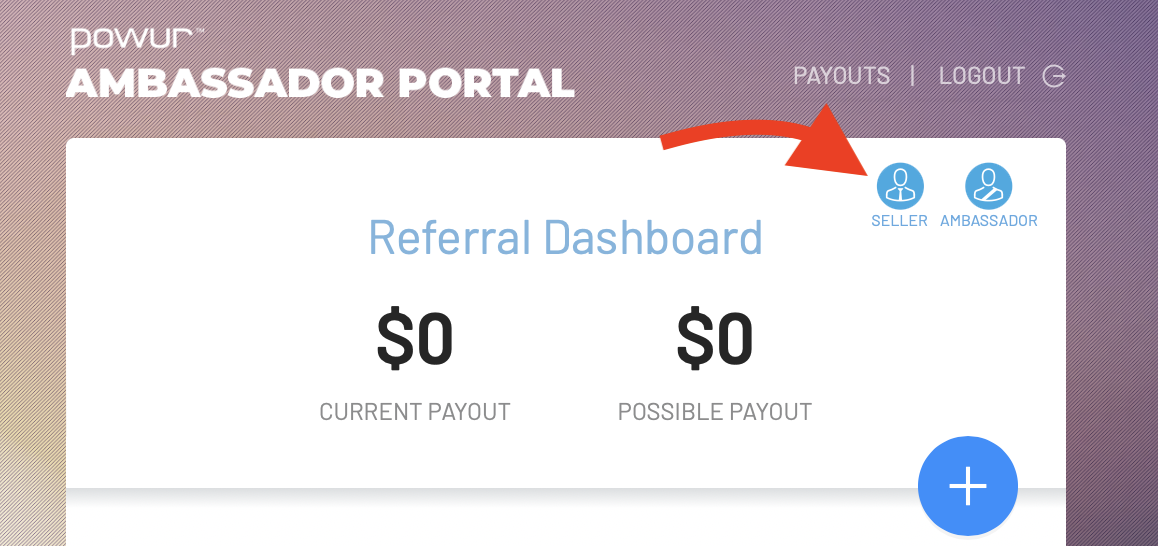 How to Submit a Utility Bill Video Tutorial
How to Set up E-Wallet for Payments Video Tutorial
How to Upgrade your Account to Become a Consultant
Becoming an Ambassador is a great first step to supporting solar and earning bonuses when your referrals go solar. If you're ready to take your involvement to the next level, you can become an Independent Solar Consultant with Powur.
Click on the Seller icon in your Ambassador Portal to access the Seller Portal on Powur.com where you'll find a ton of great information about becoming a seller:
Learn More: Discover the benefits of joining the Powur Platform as a seller, hear from our CEO, learn some tips for success and much more.
Account Types: Explore the different account types to choose the best option for you.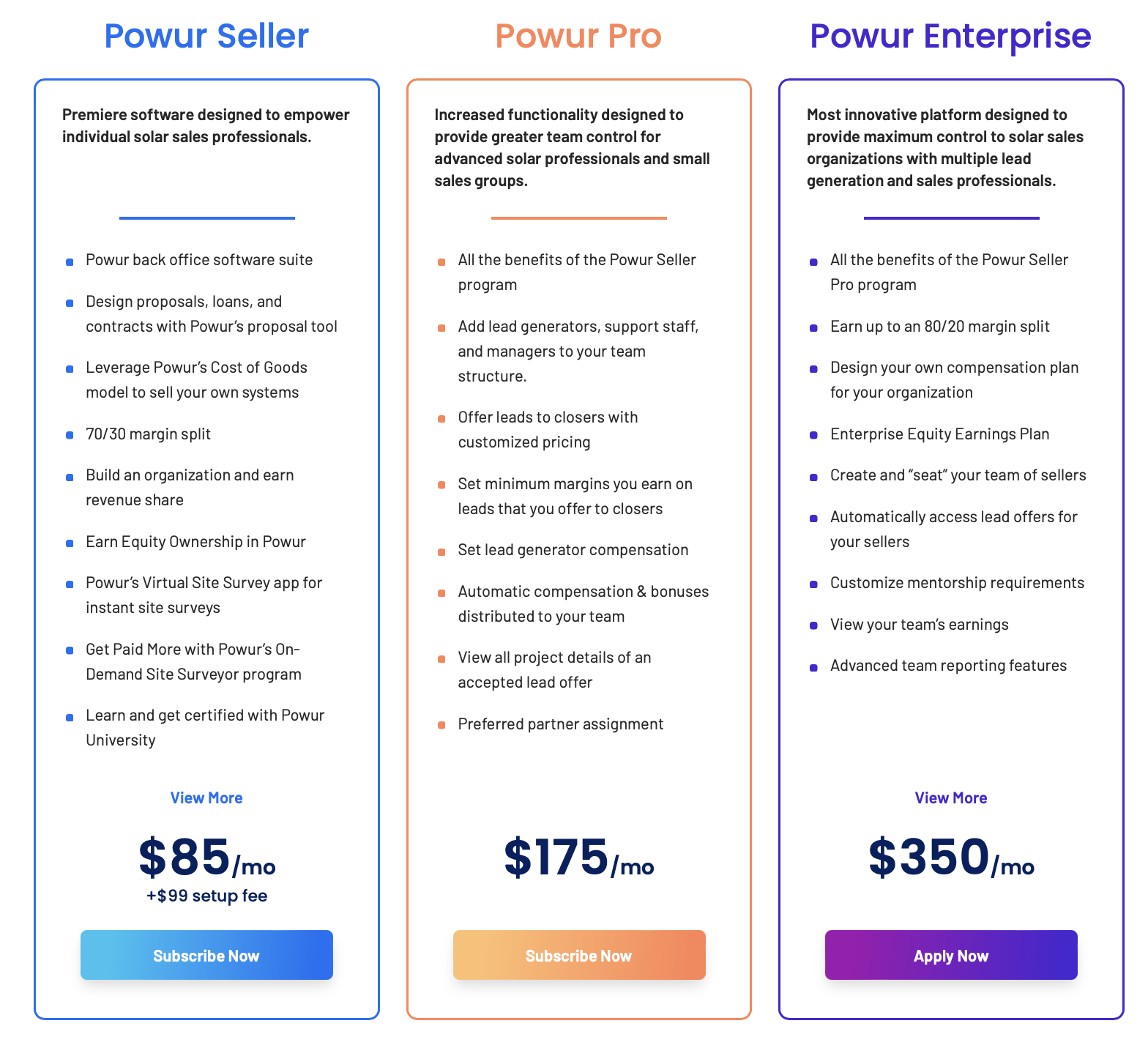 Activate your Account: When you're ready, click the Activate Your Account button which will take you to the Account Type. When you've decided which is best for you, click on the Subscribe Now button to get started!

NOTE: You can upgrade your account to a different account type at any time!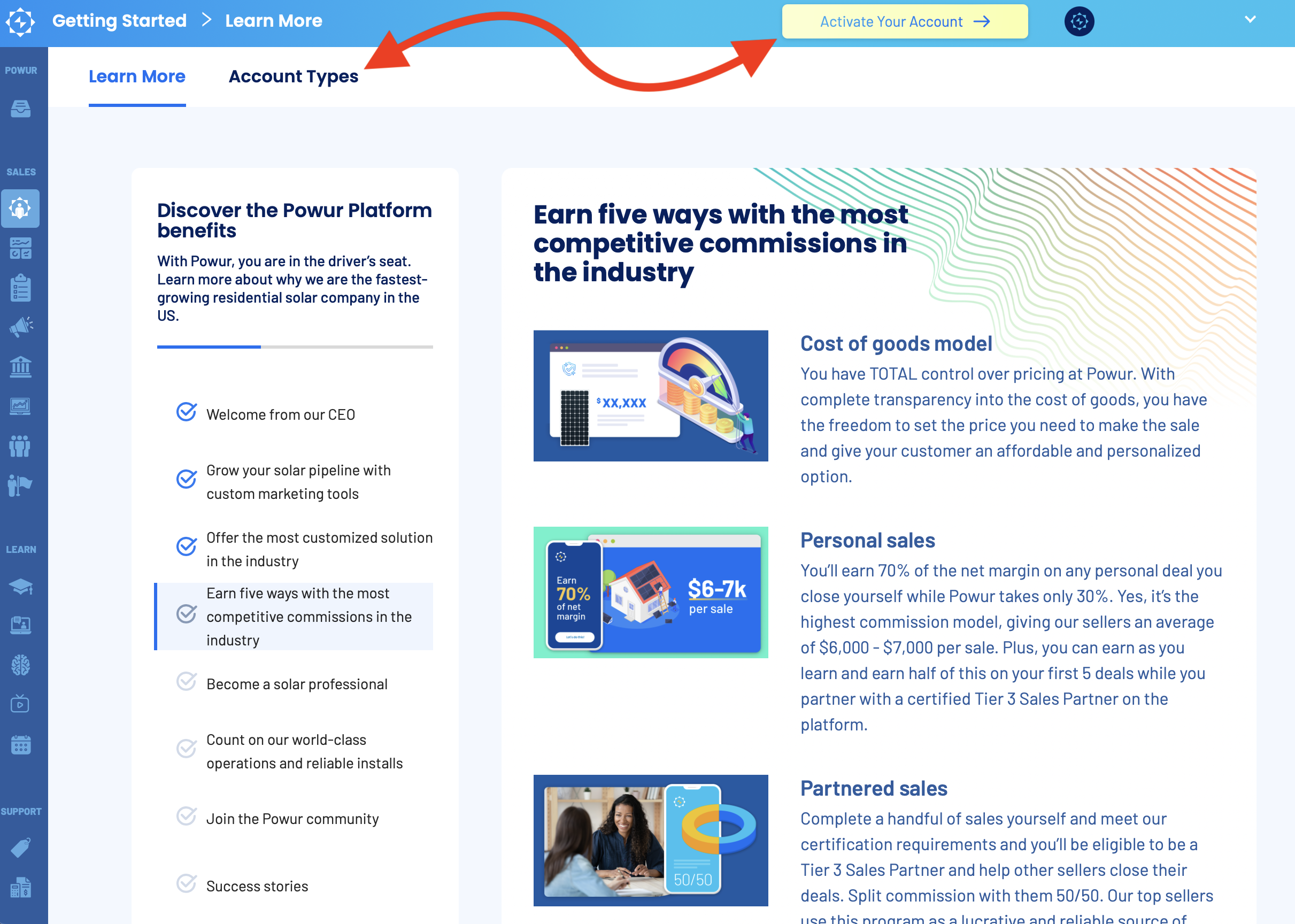 Ambassador Help & FAQ
How do I log into my Ambassador Portal?
Navigate to powur.com/login and enter the email and password you created when you signed up as an Ambassador. You can also access the login screen by going to powur.com and hitting the esc key on your keyboard.
I'm on the Powur.com dashboard, how to I get to the Ambassador Portal?
In the left-hand navigation menu on the powur.com dashboard, click on Ambassador to access your Ambassador Portal page.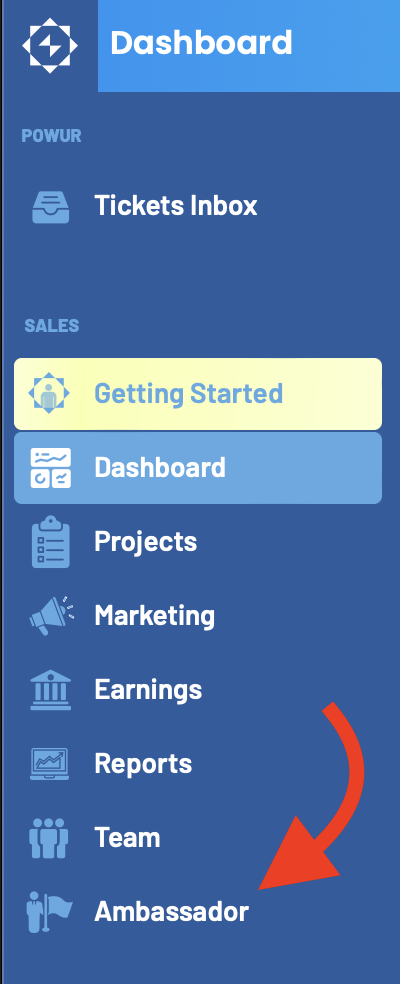 If I join as an Ambassador, who will receive the referrals I submit?
If you are a Powur customer, the consultant that you worked with will receive all of the referrals that you submit through your Ambassador Portal.
If you were referred to the platform by an existing Powur seller (your sponsor), they will receive all of the referrals that you submit through your Ambassador Portal.
Who is my sponsor?
Your sponsor is the Powur Seller who invited you to join the Powur platform as an ambassador, and they will receive all of the referrals that you submit through your Ambassador Portal.
Who will be assigned to my referrals if I'm not a Powur customer and I don't have a Sponsor?
When you sign up as an Ambassador without a sponsor or an existing relationship with a Powur seller, you'll be contacted by Powur to find out more information about your goals as an Ambassador. After this initial conversation, you'll be assigned a local seller to help you achieve your goals and they'll receive the referrals you submit through your Ambassador Portal.
More Ambassador Resources and Information About Powur
The Powur Outlet has all kinds of goods that Powur created to give our Sellers more tools to market themselves and their solar business, but they can be great resources for Ambassadors, too! 
There is plenty of Powur apparel, office supplies, equipment for hosting events, and plenty of fun stuff that you can use as conversation starters about solar. Or maybe you just want a piece of Powur swag to showcase the fact that you are a Powur customer and your energy comes from the sun!
Powur's Inc. 5000 Ranking
As the first 100% cloud-based solar energy provider, Powur is the fastest-growing national residential solar company. We've made the Inc 5000 list four years in a row and we continue to break records as we help homeowners choose clean, reliable energy and empower our sales professionals and installers to thrive in the solar industry leveraging our innovative platform.
Social Media Resources for Powur's Inc. 5000 Ranking
Check these folders on Google Drive for updated marketing materials that you can use to spread the word about Powur's Inc. 5000 Ranking. Social Media Resources for Inc 5000
Code Red for Humanity Video
Social Media "How To's"
LinkedIn - Profile Setup: How to add a background photo to LinkedIn
LinkedIn - How to Post and Share Content
Facebook - Profile Setup: How do I add or change my Facebook Page's cover photo? 
Facebook - How to Post and Share Content
Instagram - Profile Setup: How do I add a bio or a website to my Instagram profile
Instagram - How do I share a photo or video to my Instagram story?
Twitter - Profile Setup: How to add a banner and update your profile
Twitter - How to Post a Tweet
Suggestions or Comments?
If you have any comments or feedback about this page, if you believe there is any information missing or if you have suggestions for new or existing content on Powur's Knowledge Base (i.e., updates, new articles suggestions, or concerns about content accuracy), please submit a Knowledge Base Request Form.
We appreciate your contribution.